In this post I want to show you how to implement a Multivariate Linear Regression (or Multiple Linear Regression).

As I only exemplify how to implement it, you need to look elsewhere to understand the underlying concepts. You can find explanations on the workings of linear regression e.g. in Achen (1982), Bortz (2005), Crawley (2005), Faraway (2002), Field, Miles & Field (2012) (my personal favorite!), or Wilcox (2009). You can find other, partly more elaborate exemplifications of how to implement regressions in R in Baayen (2008), Crawley (2007), or Gries (2009).
Just some words before we start:
In contrast to Simple Linear Regressions, which test the correlation between one predictor variable and a dependent variable, Multiple Linear Regressions test the correlations between many predictors and a dependent variable. In addition, Multiple Linear regression models can test if there are interactions between predictors. There cannot be interactions in Simple Linear regressions because there is only one predictor.
With respect to model diagnostics, please have a look at the post on Simple Linear Regression, because what I wrote there on e.g. the interpretation of the diagnostic plots also applies to Multiple Regression.
I will, nonetheless, discuss some issues which are specific to Multiple Regression (e.g. multicollinearity) as they are not applicable for Simple Linear Regression.
I am often asked about the minimal sample size required for regression analysis and I typically recommend 25 cases per group. I only provide this value because I am annoyed by that question as the required sample size depends on the size of the effect you want to detect and the number of predictors in your model: if you have many predictors and want to detect even small effects, then your minimum sample size would something like 600 cases. However, Field, Miles & Field (2012:273-274) provide rules of thumb for minimal sample sizes in regression analyses (k = number of predictors in the model; categorical predictors with more than 2 levels should be transformed into dummy variables):
If you are only interested in the overall fit of the model (in my experience this is almost never the case), your sample size should at least be 50 + k.
If you are interested in individual predictors, then your minimal sample size is 104 + k.
If you are interested in both, choose the higher value.
You will see below that I wrote a function which checks if the minimal sample size is sufficient.
Regarding model fitting procedures, will only touch on them here and I will used stepwise step-down model selection based on AIC (Akaike information criterion). There are several methods one can use to fit the model (forced entry, stepwise, hierarchical) and even within these approaches there are subroutines and a discussion of these different procedures is beyond the scope of this post. I will, however, write another post which is dedicated exclusively to model fitting procedures.
We are going to examine whether the money spent on presents by guys depends attraction and then relationship status of the girls that the presents are given to.
So here we go….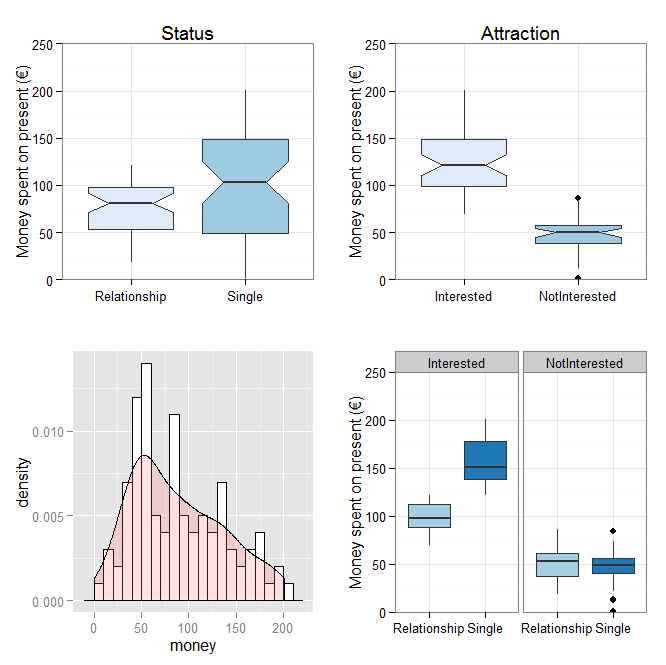 Ok, so what does all this mean?
The first object reported by the summary function is the Call, i.e. you formula. Next, the summary contains an overview of the residuals, i.e. a summary of the distribution of the difference between the values predicted by the model and the observed values.
Next comes the most interesting thing: a table with the parameters for our predictors (in fact, these are the parameters for our fixed effects – we will look at what the difference between fixed and random effects in another post). We will examine that table in more detail later on.
After that table, there are our model statistics. The model statistics provide information about the model as a whole as compared to each effect individually in the coefficients table.
The "Multiple R2" value tells us how much variance is explained by our model. A value of 0 would tell us that our model is useless and does not explain any variance. A value of 1 would tell us that our model predicts the observed values perfectly. If you multiply the Multiple R2 value by 100, you get the percentage of variance explained by the model. In our case, the value of 0.852 means that our model accounts for 85.2 percent of the overall variance.
Some researchers have proposed that a model should at least have a Multiple R2 value of .05 or higher, but this is not necessary true. The Multiple R2 value only tells us how much variance is explained by our model and maybe we are interested in a set of predictors which have only a small effect on the dependent variable. So the model can tell us something even if the Multiple R2 value is small. The important thing is that the model is overall significant which means that our model performs better than predicting the outcome on the overall mean alone. But let's continue…
The "Adjusted R2" value is similar to the Multiple R2 value but it takes into consideration the number of predictors in our model. There is, however, a more interesting aspect to the Adjusted R2 value: It tells us fit well our model is for generalizing from our sample to the overall population. If there is little difference between the Multiple R2 value and the Adjusted R2 value, our model can readily be generalized and applied to the population at large. If there is a substantial difference between the Multiple R2 value and the Adjusted R2 value, then our model is rather unstable and based on our sample we should not generalize our results. So what does this mean exactly? The difference between the Multiple R2 value and the Adjusted R2 value means that if the model were derived from the population
rather than a sample, it would account for approximately .5 percent (85.2-84.7) less variance in the outcome.
All main effects and the interaction between status and attraction affect money significantly. But what does this mean and how should you interpret this?
First of all: if there is a significant interaction, you should not interpret the main effects which are involved in the interaction. And if you do not have significant interactions, you should be aware of the fact that the main effect reflects a bivariate statistic (!), i.e. the coefficients of the predictors reflect the correlation between the dependent variable and the predictor if the other predictor has a value of 0.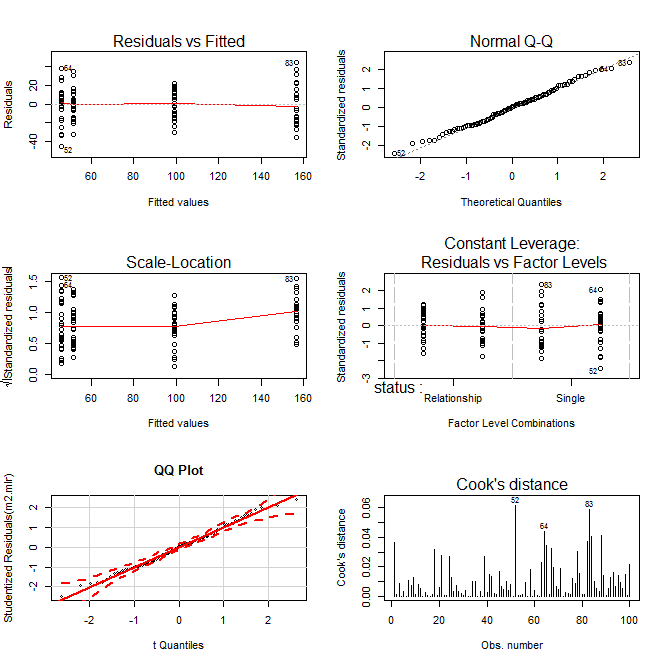 An interaction is a situation in which a correlation between a predictor and the dependent variable is affected by another variable. In our scenario guys will spend even more money if the girl they are interested in is single. So the correlation between "money" and "attraction" is affected by another variable: "status". In this case there is an interaction between "attraction" and "status".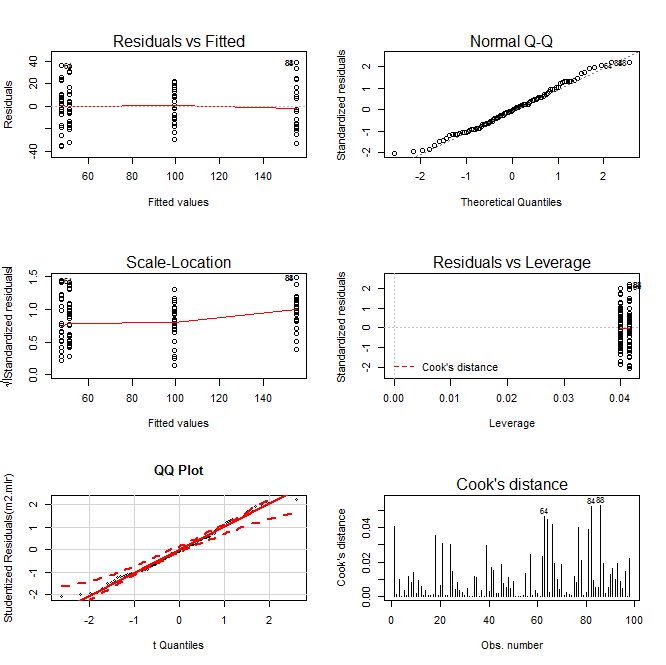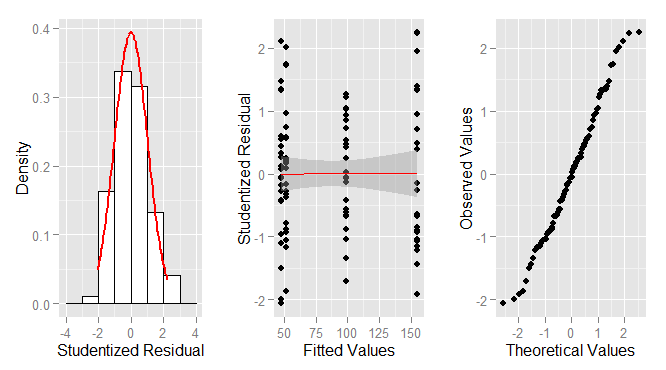 You would report these results in a table like the one below.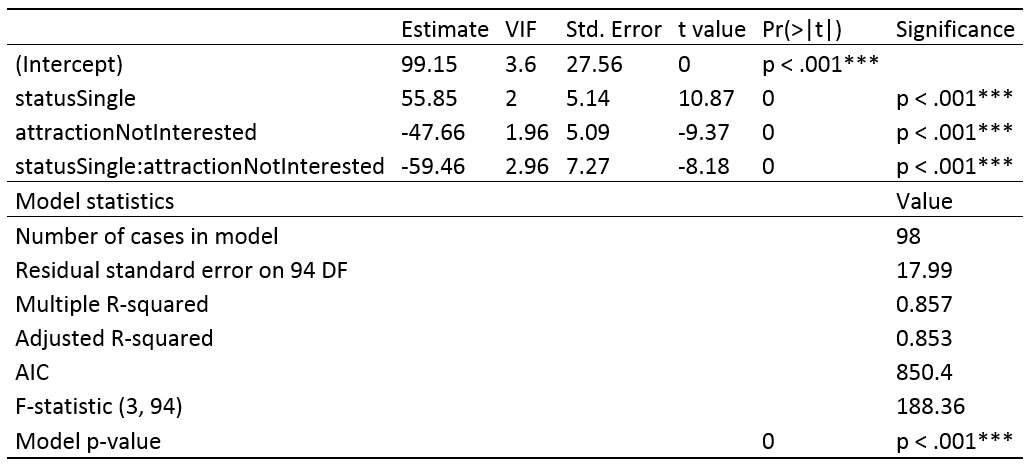 If you have to report the regression model in prose, it would read something like this:
(If there are significant interactions, you should not interpret the main effects involved in these interactions! I only do so for because I want to show how a model report could look like).
A multiple regression analysis was fitted to the data in a step-wise step down procedure using AIC (Akaike's Information Criterion) to arrive at the final minimal adequate model. During model diagnostics 2 data points were identified as outliers and as a result removed from the data. Further visual inspection of diagnostic plots and data driven methods did not suggest further problems. The final multiple regression model was based on 98 data points and correlated significantly with the data (R2: .857, F-statistic (3, 94): 154.4, AIC: 850.4, p < .001***). The minimal adequate model contained both attraction and status as significant main effects. The status of money receivers correlates significantly with the amount of money they received (SE: 5.14, t: 10.87, p < .001***). This shows that if the person receiving the money is single, they receive 55,85 Euro more money compared to persons who are in a relationship; these receive 99.15 Euro (given that they are not interested in the receiver). Attraction also correlates significantly with the money one receives (SE: 5.09, t: -9.37, p < .001***). This shows that if the person giving the money is not attracted to the person receiving the money, they will spend -47.66 Euro less than they do if they are interested in the person (given that the receiver is in a relationship). The final minimal adequate model identified a significant interaction between status and attraction (SE: 7.27, t-value: -8.18, p < .001***): if the receiver is single but the donor is not attracted to the receiver, the donor will spend 59,46 Euro less on that person than he would if he were interested in the single person (cf. Figure 1 above). The effect size is substantial (standardized β: 0.9962) and confirms that if the subject increases calorie intake by one standard deviation (10.4kcal) the person will gain one standard deviation in weight (2308g). References
Achen, Christopher H. 1982. Interpreting and Using Regression. London & New Delhi: Sage Publications, Inc.
Baayen, Harald R. 2008. Analyzing Linguistic Data – A Practical Introduction to Statistics Using R. Cambridge: Cambridge University Press.
Bortz, Jürgen. 62005. Statistik für Human- und Sozialwissenschaftler. Heidelberg: Springer.
Crawley, Michael J. 2005. Statistics – An Introduction Using R. Chichester, West Sussex: John Wiley & Sons Ltd.
Crawley, Michael J. 2007. The R Book. Chichester, West Sussex: John Wiley & Sons Ltd.
Faraway, Julian J. 32002. Practical Regression and Anova using R.
Field, Andy, Jeremy Miles & Zoe Field. 22012. Discovering statistics using R. London, Thousand oaks, CA, New Delhi, Singapore: Sage Publications, Inc.
Gries, Stefan Th. 2009. Statistics for linguists with R. A Practical Introduction. Berlin & New York: Mouton de Gruyter.
Wilcox. Rand R. 2009. Basic Statistics – Understanding Conventional Methods and Modern Insights. Oxford: Oxford University Press.